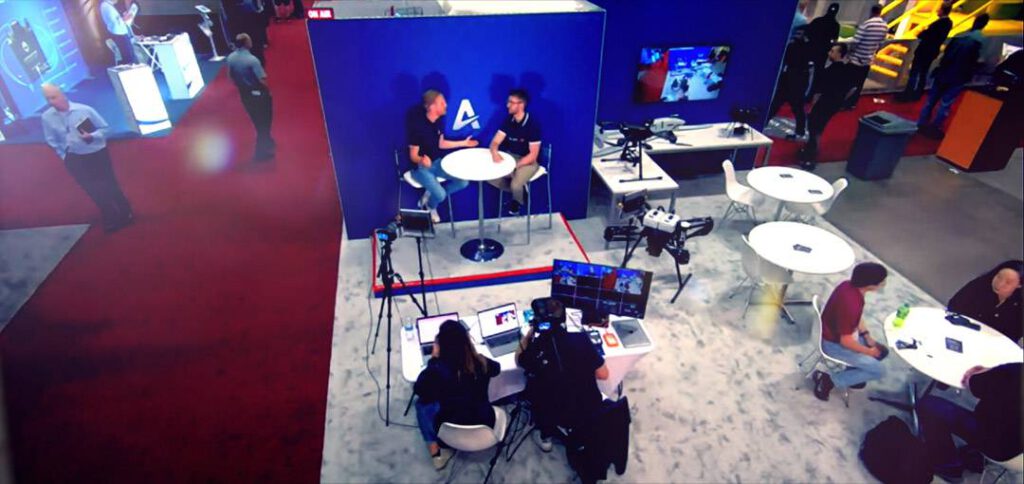 Finally, live trade fairs again and then two exciting events in one week. With the AERO in Friedrichshafen and the AUVSI XPOENTIAL in Orlando, there were two exciting trade shows in one week where we were present as exhibitors and experts. One topic that was in the foreground at both trade shows: how can the mobility revolution succeed and how will UAVs not only support but also shape our everyday lives in the future. Whether in use for public authorities or for companies. Air cabs and drones are becoming a bit more commonplace every day. An important building block for the success of this technology is autonomous flight out of sight. This requires not only legal frameworks but also new technology, both in the hardware area and in the software area. This is an interface that we are directly addressing with our VISIONAIRY software stack. Sensor fusion and AI are one of the keys for safe application in out-of-sight flights. Whether for collision avoidance (Air Risk), safe landing (Ground Risk) or safe operation of UAVs in industrial environments (Monitoring & Inspections). At both trade fairs, we were able to address this topic with exciting presentations and talks and engage in discussions with customers, partners and interested parties. Especially the presentations of our new interim CCO and former Volocopter CTO Jan-Hendrik Boelens (AERO) about AI in aviation and the Auterion Talk with our CEO Dr. Stefan Milz (XPOENTIAL) are worth mentioning. 
Stefan's talk is available here again in re-live.
In addition to our live presentations, these contributions were rounded off by a talk by our Senior Software Developer Benjamin Lewandowski on the use of drones and AI in danger and disaster situations for emergency forces. We would like to thank everyone who visited us at the trade fairs and exchanged ideas with us about the latest technological developments. Thank you. We are looking forward to the next encounters in "real life". Your Spleenlab Team.
---

German Version:
Unterwegs auf der AERO und der AUVSI XPONENTIAL
Endlich wieder Live-Messen und dann gleich zwei spannende Events in einer Woche. Mit der AERO in Friedrichshafen und der AUVSI XPOENTIAL in Orlando waren gleich zwei aufregende Messen in einer Woche, auf denen wir als Aussteller und Experten zugegen waren. Ein Thema, das auf beiden Messen im Vordergrund stand: wie kann die Mobilitätswende gelingen und wie werden UAV's zukünftig unseren Alltag nicht nur unterstützen, sondern auch gestalten. Egal ob im Einsatz für Behörden oder für Unternehmen. Air Taxis und Drohnen werden jeden Tag ein Stück mehr Alltag. Ein wichtiger Baustein für den Erfolg dieser Technologie ist der autonome Flug außerhalb der Sicht. Dafür benötigt es nicht nur rechtliche Rahmenbedingungen sondern auch neue Technik, sowohl im Hardware Bereich, als auch im Softwarebereich. Eine Schnittstelle, an die wir mit unseren VISIONAIRY Software Stack direkt anknüpfen. Denn Sensorfusion und KI sind einer der Schlüssel für sichere Anwendung bei Flügen außerhalb der Sicht. Egal ob zu Kollisionsvermeidung (Air Risk), sicheren Landung (Ground Risk) oder bei dem sicheren Betrieb von UAV's im industriellen Umfeld (Monitoring & Inspections). Auf beiden Messen konnten wir uns mit spannenden Vorträgen und Talks diesem Thema annehmen und mit Kunden, Partnern und Interessierten ins Gespräch kommen. Gerade die Vorträge von unserem neuen CCO und vormaligen Volocopter CTO Jan-Hendrik Boelens (AERO) zum Thema KI in der Luftfahrt und der Auterion Talk mit unserem CEO Dr. Stefan Milz (XPOENTIAL) sind dabei hervorzuheben.
Den Talk von Stefan gibt es hier noch einmal im Re-Live.
Abgerundet wurden diese Beiträge neben unseren Live-Präsentationen von einem Vortrag unseres Senior Software Developer Benjamin Lewandowski zum Einsatz von Drohnen und KI in Gefahren- und Katastrophenlagen für Einsatzkräfte. Wir bedanken uns bei allen die uns auf den Messen besucht und sich mit uns über die neuesten technologischen Entwicklungen ausgetauscht haben. Vielen Dank. Wir freuen uns auf die nächsten Begegnungen im "echten Leben". Euer Spleenlab Team.