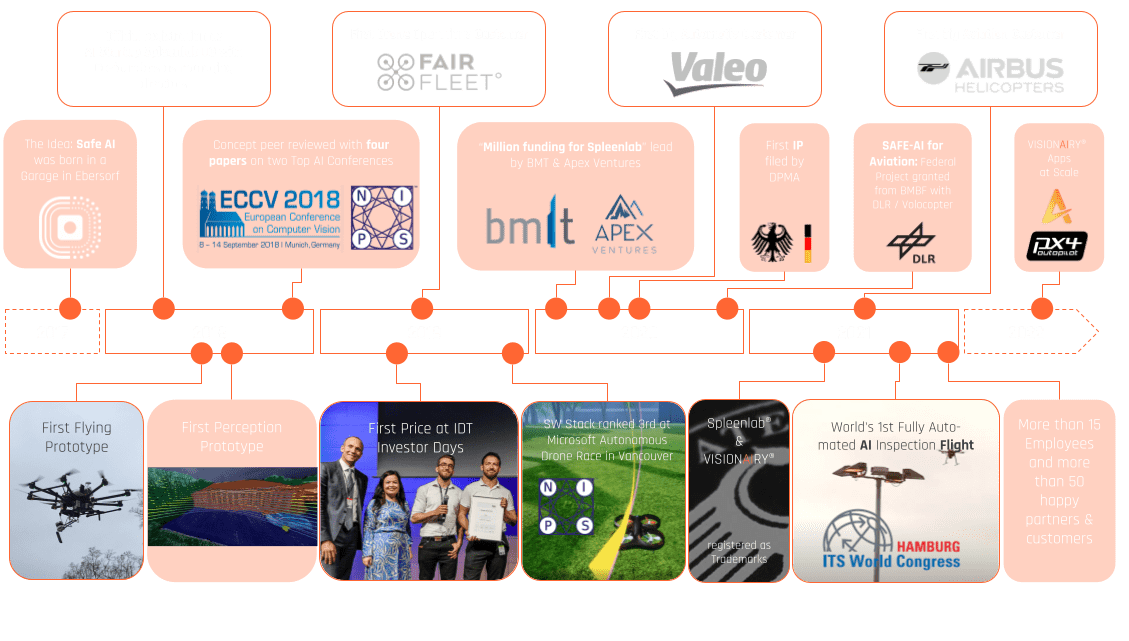 THE COMPANY FOR SAFE AI APPLICATIONS
SPLEENLAB GmbH is a highly specialized AI software company founded with the Idea to redefine Safety and AI. Since April 2018, the company has been primarily engaged in the development and distribution of safe Machine Learning algorithms for the semi- and fully autonomous mobility, especially the flight of unmanned aerial vehicles (UAV), helicopters, Air Taxis, driving vehicles and beyond. The groundbreaking fusion of different sensors, such as camera, laser and radar by means of Machine Learning is the core business of the company. The generated SLAM (Simultaneous Localization and Mapping) enables completely new applications and products for any kind of autonomous mobility. The company is based in Saalburg-Ebersdorf, Germany. 
CUTTING EDGE PRODUCTS
In addition to basic research to secure the developed algorithms, the main focus of SPLEENLAB is on the development of market-ready software solutions with realtime functionality e.g. a onboard SLAM based 3D environmental mapping during the flight. This innovative functionality is enabling a communication less flight planning independent of any GPS signal or communication with a ground station and in addition a self-localization situation awareness during the mission. With the help of AI, the aircraft also gets the ability to recognize and react to its surroundings, be it e.g. a house, a pedestrian or a power pole.
THE TEAM BEHIND THE COMPANY
Spleenlab was born out of the vision of Dr. Stefan Milz to Redefine Safe AI. Together with his co-founder Tobias Rüdiger, a professional company was developed over years. Currently, Spleenlab employs 15 highly qualified employees who contribute decisively to the success and growth of the company. The team of engineers, researchers and entrepreneurs with experience in deep learning, autonomous mobility, computer vision and graphics are working to make this groundbreaking future a reality. SPLEENLAB is also backed by experienced and reliable investors such as Beteiligungsmanagement Thüringen GmbH, APEX Ventures and Business Angel Dr. Carlo Velten with strong expertise in the deep tech sector.
THE VISION FOR THE FUTURE OF MOBILITY
SPLEENLAB's vision is to significantly advance the automation of vehicles using machine learning and to establish these applications in the market. Crucial for the success of this vision is the proof of safety and certifiability of the newly developed software products. A goal Spleenlab works on every day and which is driving the company.
Spleenlab GmbH
Hauptstr. 18
07929 Saalburg-Ebersdorf
Germany
Phone: +49 (0) 36651 56 39 12
Mail:contact@spleenlab.com
Local Court Jena HRB 511858
VAT ID No. DE304168767
Managing Directors: Dr. Stefan Milz, Tobias Rüdiger
Spleenlab GmbH
St. Annenufer 2
20457 Hamburg
Phone: +49 (0) 36651 56 39 12
Mail: contact@spleenlab.com